The solar panels used in the P2P are amorphous Silicon PV (aSi-PV)  
Polysolar uses Amorphous Silicon PV (aSi-PV) technology to manufacture photovoltaic solar glass. The material enables the production of transparent, chestnut opaque, and black solar PV panels, ideal for facades, canopies, skylights and curtain walls.  Amorphous silicon technology uses the same silicon as the common crystalline silicon panels seen on many domestic roofs. The main difference is its molecular structure, which contains less silicon, and an irregular (amorphous) make-up.
Raw amorphous silicon is deposited as a thin, naturally translucent layer on a conductive glass substrate. The aSi-PV solar panels are manufactured by vacuum depositing an ultra-thin film of the PV absorber on a conductive TCO glass surface then laminating another glass sheet on top. The internal structure is shown in figure 1 below.
Figure 1.  
The aSi-PVs used in this project are Transparent Solar Glass PS-C Amber 95W BIPV Panel (facade) and Black Opaque Cladding PV PS-D 135W Solar Panel (roof). Some of the solar light can pass through the PS-C Amber panels. Figure 2 below shows the transmission spectrum for the PS-C Amber panels (Orange trace) in comparison with the total solar light reaching the ground (Black trace) and the transmission spectrum of clean glass (Blue trace). This picture demonstrates that UV, Blue and Green light are almost completely absorbed by the aSi-PV solar panel whereas Yellow and Red can pass through. This gives to the transmitted light a characteristic orange tint as shown in the figure 3 below.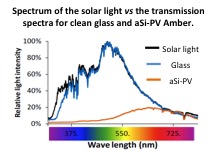 Figure 2.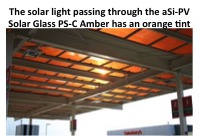 Figure 3.  
Figure 4 below shows that every day, one meter square of land receives ca. 38 Einstein of light (South of England, Summer 2014). In comparison, when the solar light is filtered through a clean glass and an aSi-PV Solar Glass PS-C Amber, the light transmitted is ca. 25 and 12.5 Einstein respectively.
Figure 4.